25.) William McKinley (1897-1901) (Republican)
Presidential Pareidolia by Patrick Bedont Jr.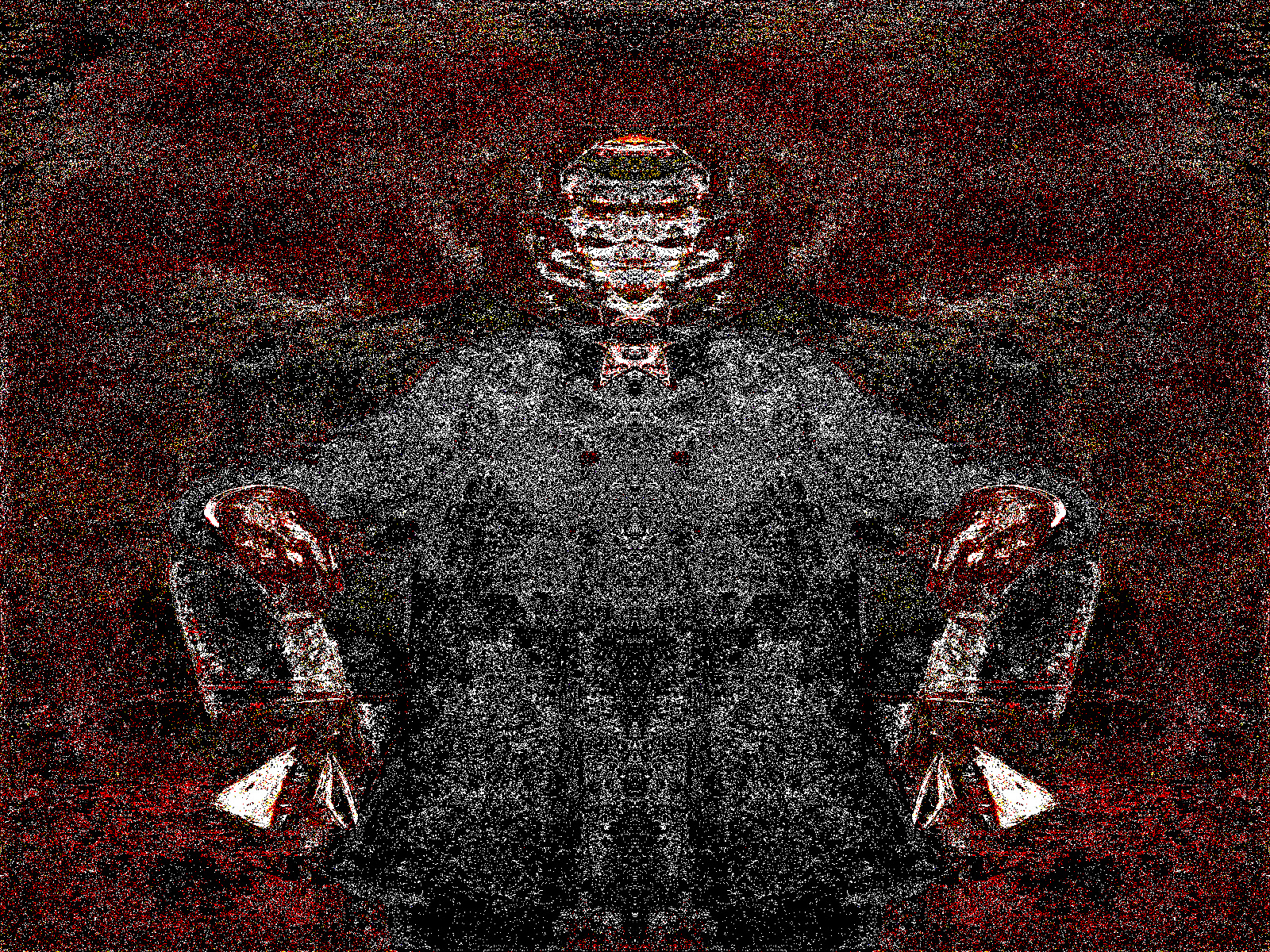 To the Senate and House of Representatives:
At the outgoing of the old and the incoming of the new century you begin the last session of the Fifty-sixth Congress with evidences on every hand of individual and national prosperity and with proof of the growing strength and increasing power for good of Republican institutions. Your countrymen will join with you in felicitation that American liberty is more firmly established than ever before, and that love for it and the determination to preserve it are more universal than at any former period of our history.
The Republic was never so strong, because never so strongly entrenched in the hearts of the people as now. The Constitution, with few amendments, exists as it left the hands of its authors. The additions which have been made to it proclaim larger freedom and more extended citizenship. Popular government has demonstrated in its one hundred and twenty-four years of trial here its stability and security, and its efficiency as the best instrument of national development and the best safeguard to human rights.
The beneficial effect of the financial act of 1900, so far as it relates to a modification of the national banking act, is already apparent. The provision for the incorporation of national banks with a capital of not less than $25,000 in places not exceeding three thousand inhabitants has resulted in the extension of banking facilities to many small communities hitherto unable to provide themselves with banking institutions under the national system. There were organized from the enactment of the law up to and including November 30, 369 national banks, of which 266 were with capital less than $50,000, and 103 with capital of $50,000 or more.
It is worthy of mention that the greater number of banks being organized under the new law are in sections where the need of banking facilities has been most pronounced. Iowa stands first, with 30 banks of the smaller class, while Texas, Oklahoma, Indian Territory, and the middle and western sections of the country have also availed themselves largely of the privileges under the new law.
A large increase in national bank-note circulation has resulted from the provision of the act which permits national banks to issue circulating notes to the par value of the United States bonds deposited as security instead of only go per cent thereof, as heretofore.
The Department of Agriculture has been extending its work during the past year, reaching farther for new varieties of seeds and plants; co-operating more fully with the States and Territories in research along useful lines; making progress in meteorological work relating to lines of wireless telegraphy and forecasts for ocean-going vessels; continuing inquiry as to animal disease; looking into the extent and character of food adulteration; outlining plans for the care, preservation, and intelligent harvesting of our woodlands; studying soils that producers may cultivate with better knowledge of conditions, and helping to clothe desert places with grasses suitable to our and regions. Our island possessions are being considered that their peoples may be helped to produce the tropical products now so extensively brought into the United States. Inquiry into methods of improving our roads has been active during the year; help has been given to many localities, and scientific investigation of material in the States and Territories has been inaugurated. Irrigation
problems in our semiarid regions are receiving careful and increased consideration.
An extensive exhibit at Paris of the products of agriculture has made the peoples of many countries more familiar with the varied products of our fields and their comparative excellence.
The collection of statistics regarding our crops is being improved and sources of information are being enlarged, to the end that producers may have the earliest advices regarding crop conditions. There has never been a time when those for whom it was established have shown more appreciation of the services of the Department.
In our great prosperity we must guard against the danger it invites of extravagance in Government expenditures and appropriations; and the chosen representatives of the people will, I doubt not, furnish an example in their legislation of that wise economy which in a season of plenty husbands for the future. In this era of great business activity and opportunity caution is not untimely. It will not abate, but strengthen, confidence. It will not retard, but promote, legitimate industrial and commercial expansion. Our growing power brings with it temptations and perils requiring constant vigilance to avoid. It must not be used to invite conflicts, nor for oppression, but for the more effective maintenance of those principles of equality and justice upon which our institutions and happiness depend. Let us keep always in mind that the foundation of our Government is liberty; its superstructure peace.
WILLIAM MCKINLEY


Citation: 
William McKinley:
"Fourth Annual Message," December 3, 1900.
Online by Gerhard Peters and John T. Woolley, The American Presidency Project. http://www.presidency.ucsb.edu/ws/?pid=29541